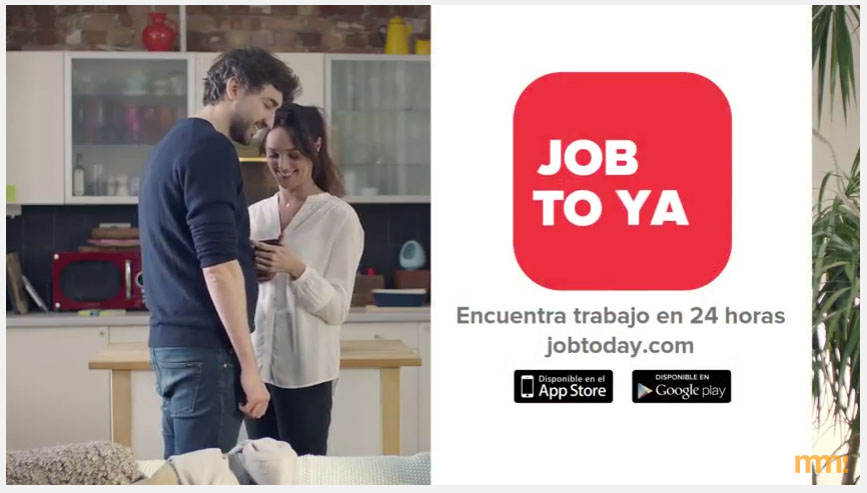 01 Dic

JOB TODAY. No es un ligue… ¡es trabajo!

Una vez más, en Commo! The Brand Activist nos hemos encargado, conjuntamente con la agencia londinense The Operators, de la creatividad de nueva campaña de JOB TODAY para España. El rodaje tuvo lugar en Londres y la postproducción se realizó en Barcelona.

A través de esta simpática historia de malentendidos entre una  joven pareja, JOB TODAY hace un guiño a una nueva generación de trabajadores, acostumbrados a comunicarse a través del chat, con rapidez y facilidad, en cualquier ámbito de su vida cotidiana; amigos, trabajo, familia, pareja,… Ello se aprovechó para crear un relato irónico en el que toma protagonismo la confusión que crea una conversación del chat de esta aplicación líder para encontrar trabajo; JOB TODAY, que bien podría coincidir con la conversación de una de las ya famosas aplicaciones que existen para encontrar un "ligue". De ahí el hashtag oficial de la campaña: #NoEsUnLigueEsTrabajo.

[arve url=»https://youtu.be/olmSF15Jylc»]

Con todo esto, se pretenden resaltar algunas de las principales ventajas de la app, cómo es el contacto directo y humano que se puede entablar con la empresa que oferta el empleo o la inmediatez con la que esta aplicación permite recibir respuestas.

Así que ya lo sabes, encontrar trabajo de forma rápida y fácil es posible, chatea con empresas y recibe respuestas en tan solo unas horas, encuentra un nuevo trabajo gracias a JOB TODAY.