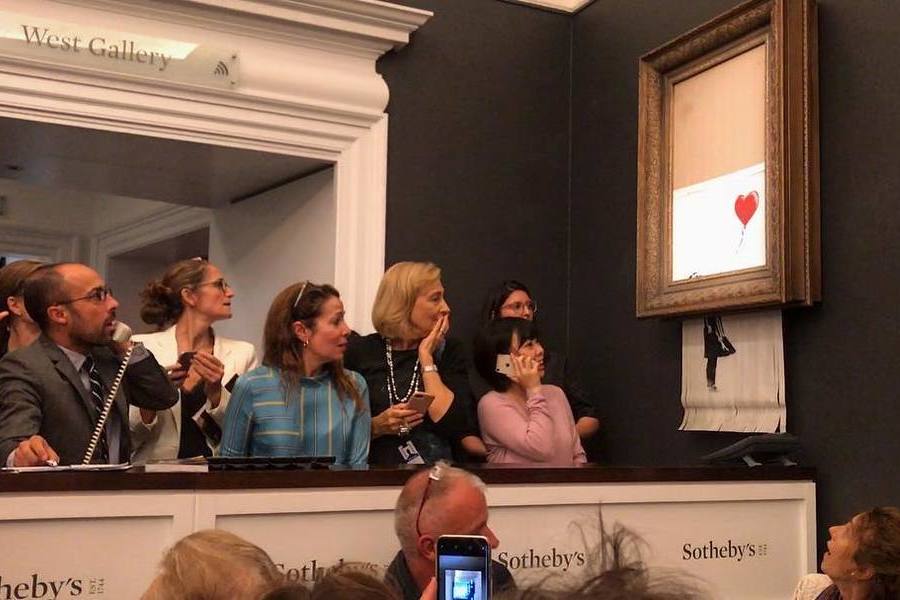 10 Oct

Banksy auto-destruye Girl with Red Balloon

Conocíamos esta semana la rompedora acción que ha protagonizado el artista Banksy auto-destruyendo su cuadro Girl with Red Balloon.

A través de su cuenta de Instagram el artista compartió con sus seguidores el video en que demuestra cómo él mismo creó un artilugio (a modo de máquina destructora de papel) que ocultó detrás del cuadro. Cuando este fue vendido el pasado viernes por 1,4 millones de dólares en la famosa galería  Sotheby's de Londres se activó el mecanismo para poner en marcha la destrucción de la obra.

«La necesidad de destruir también es una necesidad creativa«. Con esta cita de Picasso compartía Banksy un vídeo en el que explicaba brevemente cómo tramó esta gran mofa, que venía organizando ya desde hacía tiempo. «Hace unos años instalé secretamente una trituradora en el marco, por si algún día se subastaba», explica un texto mientras vemos el mecanismo destructor.

¿Quién es Banksy?

Nadie sabe quien se esconde detrás de las creaciones de este artista. Hay varias teorías sobre su identidad pero nunca se ha llegado a confirmar la autoría de las publicaciones. Se cree que podría ser un grupo de autores relacionados con el grupo de música Massive Attack ya que las obras aparecían "casualmente" donde el grupo estaban de gira.

Obras más destacadas

Si te interesa el arte urbano y vives en Barcelona te recomendamos visitar esta página donde encontrarás un mapa interactivo con las mejores obras que hay  en la ciudad.