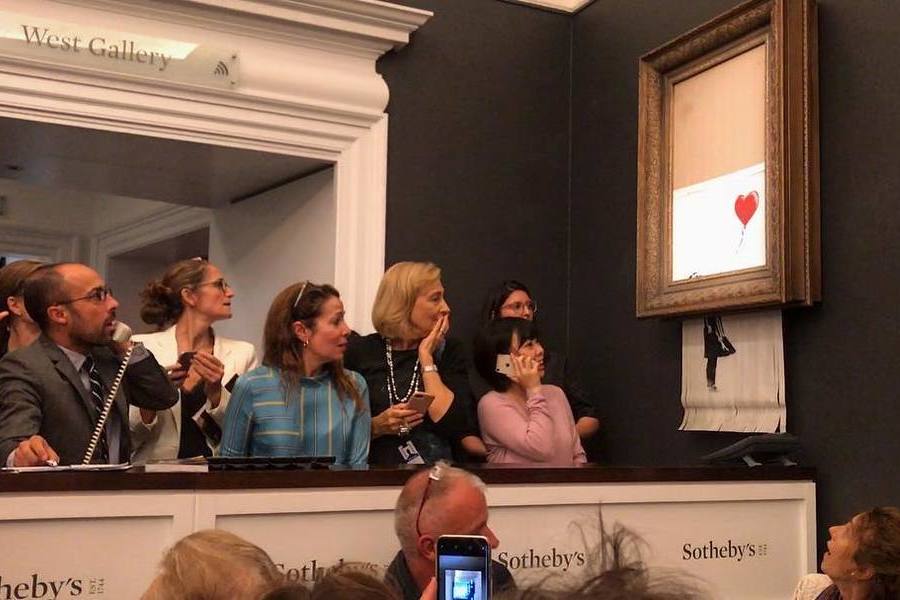 10 Oct

Banksy autodestrueix Girl with Red Balloon

Coneixíem aquesta setmana la trencadora acció que ha protagonitzat l'artista Banksy autodestruint el seu quadre Girl with Red Balloon.

A través del seu compte d' Instagram l'artista va compartir amb els seus seguidors el vídeo en que demostra com ell mateix va crear un artefacte (com si fos una màquina destructora de paper) que va ocultar darrere del quadre. Quan aquest va ser venut divendres passat per 1,4 milions de dòlars a la famosa galeria Sotheby 's de Londres es va activar el mecanisme per posar en marxa la destrucció de l'obra.

"La necessitat de destruir també és una necessitat creativa". Amb aquesta cita de Picasso compartia Banksy un vídeo en que explicava breument com va tramar aquesta gran burla, que venia organitzant ja des de feia temps. "Fa uns anys vaig instal·lar secretament una trituradora al marc, per si algun dia es subhastava", explica un text mentre veiem el mecanisme destructor.

Qui és Banksy?

Ningú sap qui s'amaga darrere de les creacions d'aquest artista. Hi ha diverses teories sobre la seva identitat però mai s'ha arribat a confirmar l'autoria de les publicacions. Es creu que podria ser un grup d'autors relacionats amb el grup de música Massive Attack ja que les obres apareixien "casualment" on el grup estava de gira.

Obres més destacades

Si t'interessa l'art urbà i vius a Barcelona et recomanem aquesta pàgina on podràs trobar un mapa interactiu amb les millors creacions que hi ha a la ciutat.